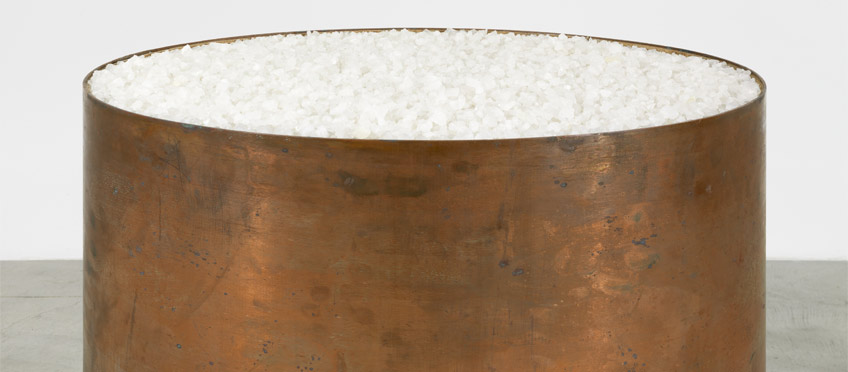 Meg Webster
Meg Webster was born in San Francisco (California) in 1944. In 1976 she received a degree in Fine Arts from Old Dominion University in Norfolk, Virginia. For some time, she lived between Florida and San Francisco, practising painting and creating her first sculptures using sand which she brought into her studio from the beach. At Yale University she attended classes taught by Vito Acconci, Hans Haacke, Robert Irwin, Donald Judd and Richard Serra. In 1983 she was appointed Michael Heizer's assistant and received a Master of Fine Arts degree. Webster has a long-standing interest in environmental issues. She mostly creates sculptures and installations, while also producing drawings and other works on paper.

In one of her first solo exhibitions, the artist presented three fence-like structures made of wood, mud, straw and earth: organic materials that tone down the emphasis on the minimalist objectivity and impersonality of the work. Over the following years Webster's research took two directions: the filling of containers made from solid materials (glass, wood, copper and stainless steel) with loose fillings (water, earth, sand and salt); and the building of rigorously geometric structures from uncontained natural materials. The complex installation Running, on display in the Brooklyn Museum of New York since 1992, exceptionally brings technology into play, in the form of a computer and an electric pump.

Clearly influenced by Land Art and Minimal Art, as well as by happenings and American Process and Conceptual Art, Webster stands out for having radicalized two aspects: the search for archetypal forms and the exploration of the limits imposted by the laws of physics.

Webster has held solo exhibitions in prestigious galleries and museums in the United States, such as the Barbara Gladstone Gallery (1988 and 1990), the Milwaukee Art Museum (1990), the Brooklyn Museum (1992), the P.S.1 Contemporary Art Center in New York (1998) and, in 2010, the Hudson River Park in New York and the Devin Borden Hiram Butler Gallery in Houston. She has taken part in many group exhibitions, including Aperto 88 at the Venice Biennale, where Giuseppe Panza first discovered her work, the Biennial of the Whitney Museum of American Art (1989), The Material Imagination at the Solomon R. Guggenheim Museum in New York (1995), and 'Down the Garden Path: the Artist's Garden after Modernism' at the Queens Museum of Art in New York (2005). Webster's sculptures and installations are to be found in the Dallas Museum, the Solomon R. Guggenheim Museum in New York, the Walker Art Center in Minneapolis, The New School Art Collection in New York, the Israel Museum in Jerusalem, and the Panza Collection in Mendrisio. Her work is represented by Paula Cooper Gallery, New York, and Galerie Anne Mosseri-Marlio, Basel.