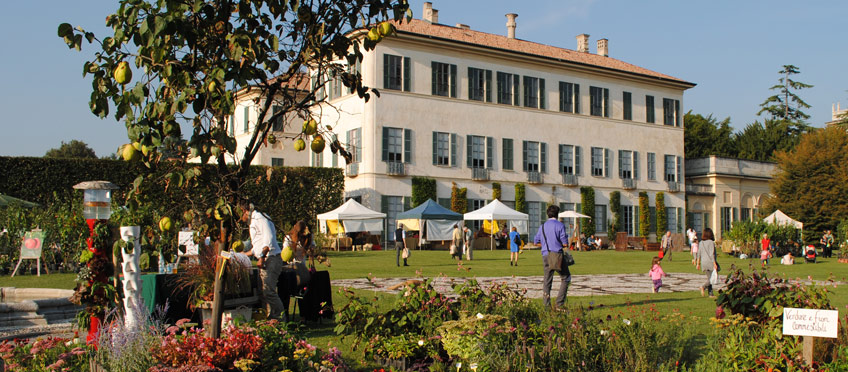 Events
Kids & Families

Sunday Art Labs: BIM BUM BART
Events to discover, to play and to have fun with contemporary art.

Sunday 13th, March
BIM BUM BART… WITH DAD
A thrilling "colors hunt" for kids and their dads through the rooms of Villa Panza. In the lab kids will create special paintings of light and colors: an unusual way "to dive" into art and to take pictures together.

---
ENCHANTING SURPRISES. EASTERN AT VILLA PANZA
Friday 25th, March at 3.00 p.m.
CREATIVE WORKSHOP
Eastern creative workshop for children from 4 up to 12 years.

Monday 28th, March at 11.00 a.m. and at 3.00 p.m.
CHOCO-HUNT for families
Pic-nic organized by Ristorante Luce (compulsory reservation)

---
Sunday 24th, April
COLORS IN BLOSSOM
Villa Panza's garden is full with colorful trees, scented flowers and a special vegetable garden. After having explored woody alleys and fragrant spirals, kids will create a small garden to take away with recyclable materials.

Sunday 8th, May
BIM BUM BART… WITH MUM
Secrets and techniques of the works displayed at Villa Panza and of their artists will be revealed before creating a special scented frame!


---
Every visit starts at 3 p.m. and it lasts 2 hours.
For info and reservation (compulsory): T. +39 0332 283960 / faibiumo@fondoambiente.it

ENTRANCE FEES
(EDUCATIONAL VISIT & LAB)
Children (4-12 years): € 10,00 - FAI members' children: € 5,00
Parent: €5,00 (free for FAI members)
The visit will take place with at least 15 joiners; parents not willing to join the educational activity can meet children at the end of it as well as follow the regular guided tour of the exhibition (regular entrance fee).